Knee pain? Arthritis? Back pain?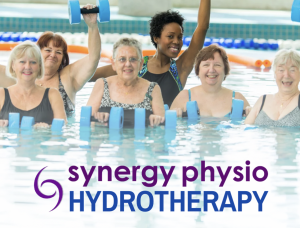 Would you like to improve your mobility in a safe and supported environment? Heard about the benefits of hydrotherapy but not sure where to start? Hydrotherapy could be for you!
Immersed in waist deep warm water ranging between 33 and 35 degrees Celsius, we are starting hydrotherapy classes in groups of up to 6 people at St Andrew's Aquatic Centre in Peregian Springs. Using various forms of exercise equipment and floatation equipment, each participant is given a program targeted at their specific condition and goals in 45 minute classes.
Hydrotherapy has been shown to have a wide variety of benefits for a multitude of conditions. Along back, lower limb, and other musculoskeletal conditions, hydrotherapy can help with other conditions including fibromyalgia, neurological conditions, joint replacement rehab, and improving heart and lung health.
The benefits of hydrotherapy can include:
Alleviating muscle, tendon and joint pain
Decreasing muscle tightness
Promoting relaxation
Improving range of motion/flexibility
Improving strength
Improving balance in an environment with low risk of falls
Improving walking pattern in a reduced gravity environment
Stimulating blood flow
Decreasing swelling
Hydrotherapy programs are targeted specifically to your goals and all ability levels are welcome!
If you think hydrotherapy is for you, please have a chat with the team at Synergy Physio!
Your physiotherapist is able to guide you with a full rehabilitation program. This can help to restore strength and flexibility. A one on one assessment is required before attending hydrotherapy in order for us to tailor your program.
Our team love to help YOU with your health.
Would you like simply to speak to one of our expert physiotherapy team members to find out if we can help you?  Contact us on 07 5448 3369 or simply book online!